Traditions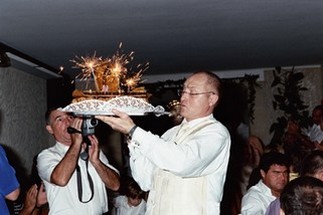 The Villa Quélude is a family history anchored in Provence that is written over several generations.
For more than 60 years, as a caterer and pastry cook specializing in weddings, the traditional Provencal and Mediterranean cuisine is honored for the delight of your taste buds.
Three generations of restaurateurs, caterers transmit essential values ​​in gastronomy: the respect of the fresh product and quality, without frozen, everything is handmade in the rules of art: the "real" homemade.
We carry out all menus from A to Z, including bread, sweets and of course the pastries that you can see in the pictures.
We vary the menus each year in order to stay closer to the will of the guests and for your wedding to be unique.
We can thus realize your desires and be in accordance with different customs.
Do not hesitate to contact us and come and meet us to better appreciate what we can propose and appreciate our reception room.