Services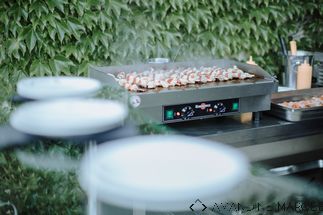 The Villa Quélude adapts to your wishes and offers you a range of varied services respecting the "real" homemade.
You are free to choose a table meal, a hot and cold buffet, or both, or a buffet dinner. Our service includes aperitifs, wine, champagne, coffee, cake and cake and service.
All the dishes that we serve are elaborated by us, at Villa Quélude, making sure to use only the products of local market gardeners and vintners, guaranteeing freshness and quality.
Your reception area, the wedding room, is of the Provençal type, containing furniture of style. The tables are in solid oak and enamelled lava, they are erected of white cloth tablecloths, with assorted traditional Provencal chairs and flowers are provided for each table.
We offer you additional decorations, you can also choose them freely and bring any item that will allow you to personalize your reception or your wedding.
To help you choose your service providers, we offer professionals with whom we are used to working as DJs, decorators, photographers and videographers ...
The Villa Quélude welcomes guests from 50 persons up to 400 people.
We have a current price range, all inclusive, between 97 Euros and 125 Euros per person room included.
A fixed price for the presentation of the room will be applied, ranging from 400 Euros to 600 Euros.
We can also offer you a brunch, if you wish.
We invite you to come and meet us to present our services in more detail and to discover our reception hall.